One thing to announce it or promise it – another to do it.  Citrix has been focused on End User Computing since its inception in 1989. Today it delivers from one website access to:
 * Desktops
 * Server Based Apps / Shared Desktops
 * Remote-PC (to physical workstations)
 * Blade PC's
 * Native Single Sign On (SSO – SAML) to Web Apps – and outside Web Services
When I log in to work, I access 1 URL, go through a Citrix Netscaler – which runs an Access Gateway and am presented with a 2 factor authentication:
When I log on, just see the apps I subscribed to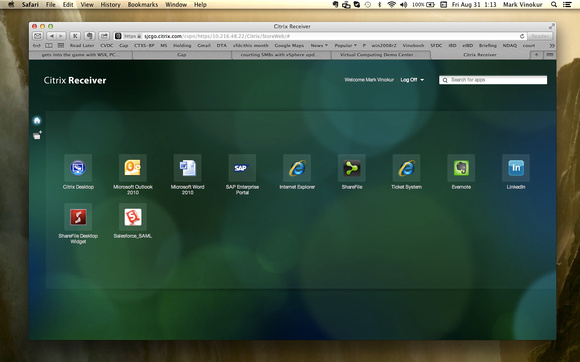 Plus the ability to customize the layout with more apps!
Plus it's all done by Citrix, without the need to try to interconnect multiple disparate vendor technologies and 3rd party protocols.  And if you want to connect to the same environment without a client, HTML 5 is now supported: 
/blogs/2012/08/31/receiver-for-html5-is-now-available/
Back to the show:
Every 5th person who came up to the Citrix booth at VMWorld wanted to know about the promise of delivering a user experience using a Terminal Server, rather than connecting users to VDI (Windows Workstation Virtual Machines) – say what?!?!?
Let me first say, I was taken aback a little by what I was hearing.  Over the past year, I and my teammates heard from customers that VMware was telling customers NOT to allow Citrix to talk about XenApp in VDI competitive POC's; to keep the comparrison in bakeoff's fair, and to only show XenDesktop.  Even when the reality was that in certain situations delivering a shared XenApp desktop is better for IT's pocket (think number of servers required) and is EXACTLY the same for users who do not need to install apps like call-centers and medical / hospitals, but still need to customize their environment by selecting apps and changing backgrounds etc.
You see before vRAM tax, and before VMware started trying to play in the virtual desktops, we were virtualizing XenApp servers on ESX. We could get a VM with a 16-24gigs of RAM and host many users on it; achieving user-densities per host which were and still are much larger than what is possible by connecting users on a 1:1 basis to virtual workstation based desktops – sometimes up to 5 times greater!
But let's get back to the point:  announcement at VMWorld is a promise to broker user connections to Windows Terminal Server based desktops.  Since they have a partnership with Teradici for PCoIP, it's actually up to Teradici to deliver on that promise to do that.  That promise is now in Beta.
What's interesting is that delivering seamless applications using this environment is NOT on the list, so if I'm on a Mac because I simply love my Mac desktop – or may be I have personal apps that I'd like to display side-by-side to windows apps, I can't do it.  Below is an example of that, where I have a native browser with Podio (a Citrix project management and collaboration website), running next to a windows delivered Avaya IP Agent delivered from the Datacenter.
Whatever the case, it is my job to cut through the Fear Uncertainty and Doubt (FUD), and let my customers know that Citrix is a proven technology with many successful large and small deployments.  A brighter future with unproven technology may sound good in theory (like
Solyndra
) – but I wouldn't bet on it.
We have to see how successful or scalable this proves to be in the future. But businesses can't wait for promises, today Citrix has existing customers connecting to shared memory environments with XenApp; – I personally have a customer that is surpassing 100,000 concurrent users (CCU) and if you want to check out success stories, please visit: 
http://www.citrix.com/lang/English/ourCustomers.asp?ntref=ps_Success_Stories
A note on scalability, and a history lesson:  to make the environment scalable, it's very important to know where to place the next user. Here is an example the granularity you can achieve with a Citrix Load Evaluator – a feature built into XenApp:
Microsoft asked Citrix for help to deliver the first Multi-User Windows Kernel (see the Microsoft Relationship section in: 
http://en.wikipedia.org/wiki/Citrix_Systems
) – that's why the partnership has been flourishing over the past 20 years. But that's just one part of it.  Citrix created a way for many servers to efficiently communicate in a farm to create better resiliency AND to connect users to the least loaded server based on many real-time factors. With
Preferential Load Balancing
, it's possible to allocate a bigger share of resources to individuals, groups of users, or certain apps.  This is key – because you don't have to create a separate silo with its own white space, just to deliver a faster experience to certain users or apps.
In the end, to me it felt like there wasn't anything to be excited about at VMWorld except maybe for Hadoop and Big Data promise – nothing really to do with End User Computing. The feeling was similar to what I bet Apple felt when their design was simply copied.  I want there to be jaw-dropping innovation – not just "we also do vdi" message I received from VMware from VMWorld 2012.
Your Comments Here or on Twitter:
@mleptor
Are Always Welcome.